Main information: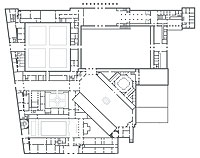 Court Church of All Saints
Only the gallery of the Church is accessible as part of the museum tour.
King Ludwig I had it built from 1826 to 1837 to designs by his court architect, Leo von Klenze. Largely destroyed in the Second World War, it was not re-opened to the public until the year 2003. Surviving parts of the original building were restored and missing sections carefully replaced. The interior was then refurbished in a simple modern style as a venue for concerts and other events.
East façade at the Marstallplatz
The idea for the Court Church of All Saints went back to a visit Ludwig paid to Palermo in 1823, when he was Crown Prince. After attending Midnight Mass in the palace chapel there, which is built in a mixture of Norman and Byzantine styles, he was allegedly so moved that he exclaimed: "That's the kind of court chapel I want!" To comply with Ludwig's wishes, Klenze took St Mark's in Venice as his model because he saw this as a quintessentially Byzantine building, but interpreted his model in terms of classical antiquity.
Frescoes on a gold ground originally decorated the vaulting and the apses. The floor of the church once consisted of coloured marble and the walls were clad with plaster imitation marble. You can see remains of this imitation marble on the entrance wall. Columns of red marble support the galleries. Ludwig I could reach the galleries directly from the Residence to attend Mass. The populace entered the church via the portal in the east façade, which Klenze designed in a combination of Romanesque and Gothic styles.
This Roman Catholic court church acquired special significance through being the first ecclesiastical building to be erected in Bavaria since the confiscation of church property in 1803. It was therefore no accident that the new church was dedicated to All Saints.
| top |