Main information: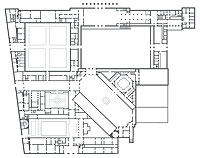 Residence Museum
Electoral Rooms (

Kurfürstenzimmer

– Rooms 22-31)
Up until 1599, the ducal library was housed on the floor above the Antiquarium. Later this suite of rooms was used several times by the heir to the reigning elector.
Elector Max III Joseph however remained in the rooms together with his wife Maria Anna von Sachsen even after taking power in 1745 and had them extended and modernized in 1746 by Johann Baptist Gunetzrhainer. Some 15 years later the elector commissioned François Cuvilliés to redesign the furnishings and decoration in the Rococo style.
The Elector and the Electress each had their own set of apartments. These were accessed from opposite ends and met in the middle.
The Electoral Rooms were destroyed in the Second World War. The main features of the rooms could however be reconstructed from the surviving works of art and remaining sections of wall panelling. Many of the paintings and objects now on display here were not part of the original furnishings, with the exception of the three large views of the city of Munich and the summer residence of Nymphenburg painted in 1761 by the famous Venetian Bernardo Bellotto, known as Canaletto. A media station in Room 22 takes you back to the period when they were painted!