Main information: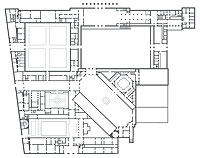 Residence Museum
Rich Chapel (

Reiche Kapelle

– Room 98)
The Rich Chapel, which was consecrated in 1607, was the private place of worship of Duke Maximilian I and his wife. It was here that the Duke kept his collection of precious relics, the bodily remains of saints. Because of the beneficial powers attributed to relics, the Rich Chapel became the ideological and spiritual centre of the Baroque Residence.
In accordance with its exceptional importance, the chapel was decorated with particular magnificence using coloured marble and gilt reliefs The walls are lined with scagliola panels, inlays with scenic views and floral ornamentation artistically created out of multicoloured stucco marble, which with its gleaming polished surface looks like real marble.
Much of the original decoration of the Rich Chapel is still in place. This includes the altar with its outstanding silver reliefs by the Augsburg goldsmiths Hans Schebel and Jacob Anthoni, the ornate organ and the engraved crystal reliquary.