Main information: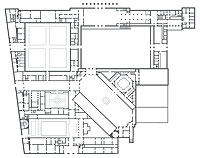 Residence Museum
Papal Rooms and Golden Hall,
(

Päpstliche Zimmer und Goldener Saal

),
former apartment of the electress (Room 67-71)
For four generations from the beginning of the 17th century onwards this was the apartment occupied by the duchess and subsequently the electress. The present name "Papal Rooms" originates from a visit by Pope Pius VI in 1782.
In around 1666-67 Electress Henriette Adelaide, a princess from the House of Savoy, had the original apartment remodelled in the ornate Baroque style associated with the Italian city of Torino. Adjoining the west end of the apartment is a room known as the Golden Hall because of its original rich decoration, which was the electress's audience room.
The last person to live here was Maria Amalia, a member of the Habsburg family and the wife of Elector Karl Albrecht, who later became emperor. Between 1730 and 1756 she filled the rooms with exquisite Rococo furniture.
After remodelling in the 19th century and bomb damage in the Second World War practically only the gilt ceilings with their elaborate carving and numerous ceiling paintings remained intact. The original magnificence of this apartment is best represented by the Cabinet of Hearts (Herzkabinett), which was exquisitely decorated under Henriette Adelaide and is dedicated to the cult of the loving heart.